Tommy Lee's name has become synonymous with that of his ex-wife Pamela Anderson, but the Baywatch star isn't the only famous face the 60-year-old Mötley Crüe drummer has been seen with.
In fact, prior to marrying Anderson, 55, in 1995, Lee was married twice before – first to Elaine Starchuk from 1984 to 1985, and then to actress Heather Locklear from 1986 to 1993.
Now, Lee is married to Internet personality Brittany Furlan, 36, and has been since 2019 – the couple's relationship, unlike with Anderson, had been kept relatively out of the spotlight, until Anderson's Netflix documentary Pamela, A Love Story, premiered earlier this year, following the release of her memoir, Love, Pamela.
READ MORE: Deadly detail Ashleigh had no idea was hidden in holiday snap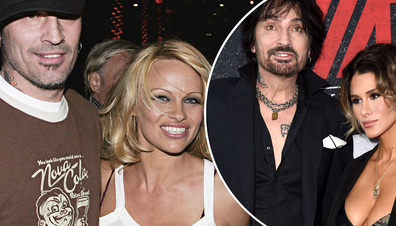 Anderson has been open previously about how she felt Lee was the "love of her life" and in both her memoir and documentary, she spoke about the difficulty surrounding the end of their marriage.
In Pamela, A Love Story, Anderson told her son Brandon Lee: "I really loved your dad for all the right reasons and I don't think I've ever loved anybody else. It's f–ked."
"I never got over not being able to make it work with the father of my kids," she said at a later point in the documentary.
"I'd rather be alone than not be with the father of my kids," Anderson, who has been married to bodyguard Dan Hayhurst since 2020, said of her feelings.
"It's impossible to be with anybody else. But I don't think I can be with Tommy either. It's almost like a punishment."
READ MORE: Threats lobbed at Queensland teen after single comment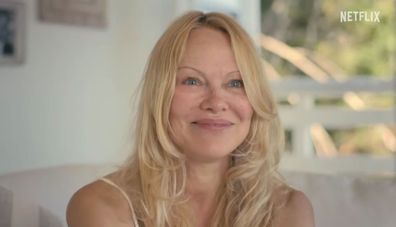 In Love, Pamela, she said all her relationships after Lee "paled in comparison" and her other partners "had no shot."
"It was a losing battle. It wasn't the others' fault – they just had no shot. My relationship with Tommy may have been the only time I was ever truly in love," Anderson wrote.
Furlan, meanwhile, came under fire for her response to her husband's ex-wife's revelations. Taking to TikTok, Furlan shared a since-deleted video of herself using the '90s Pam Makeup filter and saying repeatedly and sarcastically "Oh, oh" with the caption: "Pam if I died."
She also wrote: "Pls guys I gotta make jokes it's how I cope".
Previously, Furlan thanked her fans after the documentary's release for their support, saying: "Thank you to everyone that's been sticking up for me and stuff like that. Don't worry about anything."
Later, Furlan said she's confident and happy in her marriage in another TikTok video.
READ MORE: 'Painful' details behind Cate Blanchett's emotional awards speech revealed
Unable to display TikTok on this browser
"I just wanted to come on here and let you know I'm OK because I know people have been checking on me, which is really nice, and I'm good, don't worry," Furlan said.
"Don't worry about the people that are saying all the mean things they're saying. I don't live in that world, so please don't stress.
"Thank you to the people who have been so sweet. We're only here for a certain amount of time, so I don't sweat the comments from people that don't know me or my relationship or anything like that," she continued.
Furlan said of Lee that she's "lucky to have a really loving husband who honestly laughs all the stuff off and could care less."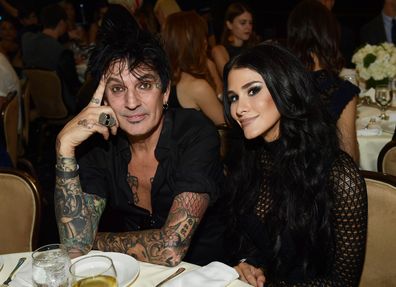 Anderson, meanwhile, told The Howard Stern Show in January around her memoir's release that she has no ill will towards Furlan.
"He's married and happy, and she's good to him and I totally support that and think that's great," Anderson said of Furlan. "I hate to be annoying and going through this again. I'm sure she's annoyed, but I respect their relationship, and [I'm] just glad he's happy and he has somebody in his life."
Read on to see everything we know about Tommy Lee's past and current relationships.
READ MORE: Reality star 'punished' by thousands for single decision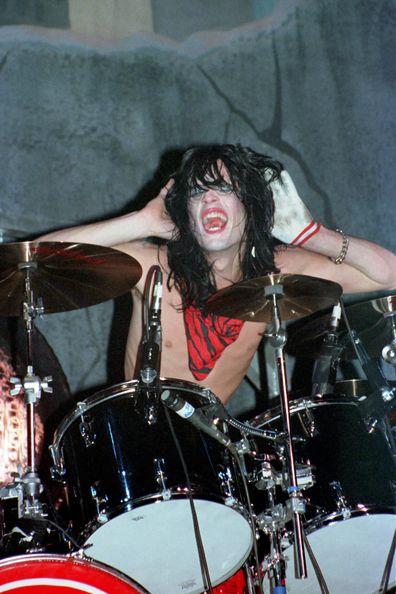 Elaine Starchuk
Lee and Starchuk married in 1984 after dating for a few years.
Not much is known about their relationship as neither Hulu's semi-fictional series Pam & Tommy – which Anderson has been vocal in her disapproval of – nor Netflix's 2019 Mötley Crüe biographical film The Dirt touched on it.
We do know for sure, however, that they split after seven days of marriage, and officially divorced in 1985.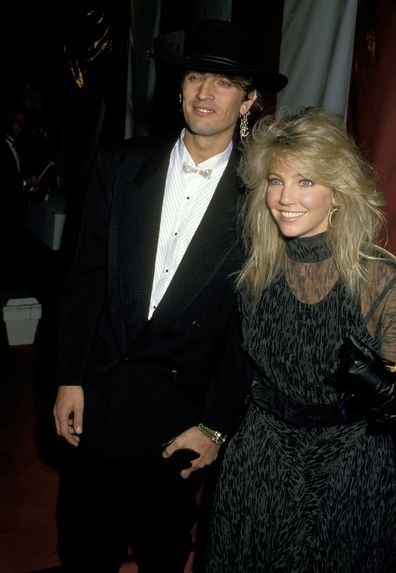 Heather Locklear
In 1986, as Locklear was making waves with her role on television's Dynasty, a then-24-year-old Locklear and a then-23-year-old Lee tied the knot after a few months of dating and a year after they first met backstage at a REO Speedwagon concert.
Reportedly, Lee had to ask someone to introduce him to Locklear as he was too shy to approach her.
On May 10, in front of 500 guests, Locklear, who was wearing a fishtail gown, and Lee, who was wearing a white leather tuxedo, said "I do."
In 1993, however, the couple divorced. Locklear went on to marry Bon Jovi guitarist Richie Sambora in 1994, and after their 2007 divorce, got engaged to Chris Heisser in April 2020.
Decades on from their split, it seems Locklear and Lee are on amicable terms. In 2016, Locklear shared a photo of her and Lee kissing to Instagram on what would have been their anniversary, with the caption: "Happy 30 years baby."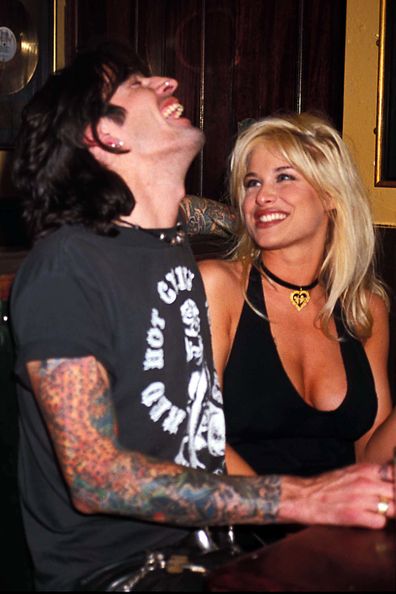 Bobbie Brown
Just before Lee and Anderson wed, Lee was engaged to model Bobbie Brown, who some would say is Anderson's doppelgänger.
They dated for five months before getting engaged in July 1994, but by December 29 of that same year, there were reports they had separated.
Nevertheless, it emerged officially the pair had split in February 1995, four days before Lee married Anderson.
In her 2013 memoir Dirty Rocker Boys, Brown wrote of the end of their relationship, noting how she felt betrayed.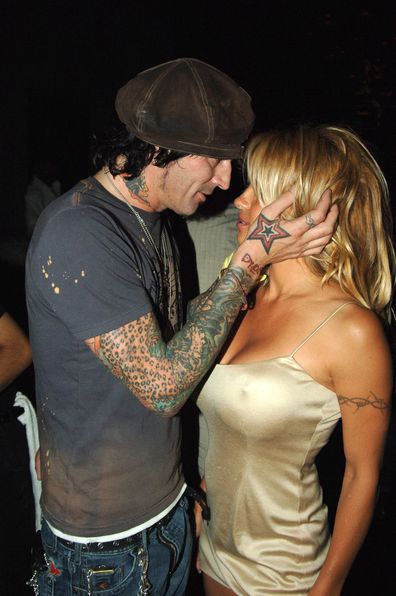 "My new fiancé and I were out one night at Bar One on the Sunset Strip when Pamela approached us. I, of course, knew who she was because people were constantly confusing the two of us – two big-busted blond bombshells. But that night, my doppelgänger was on a mission," Brown alleged in her memoir, saying how after that meeting, she knew her relationship with Lee was doomed.
Four days after they somewhat broke things off and Anderson and Lee had met, Brown wrote said she got a call from Lee.
"He said 'I'm in Cancun with Pamela Anderson. We have sex toys. I'm going to f–k her really hard,' he said on my answering machine," Brown alleged.
"Once I knew they'd sealed the deal, I went and sat on my toilet and cried," she wrote of learning Lee and Anderson had married.
Now 53, Brown married Warrant's Jani Lane in 1991, and the couple split in 1993. They share a 31-year-old daughter, Taylar Jayne Lane.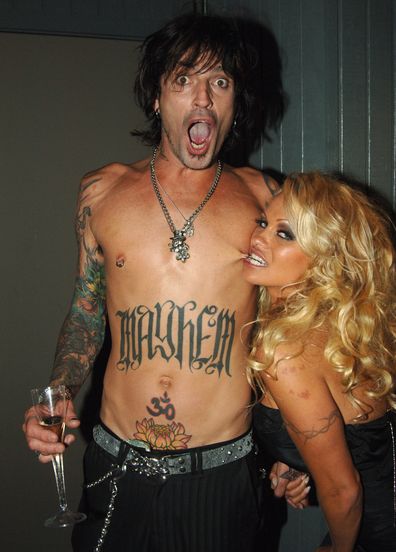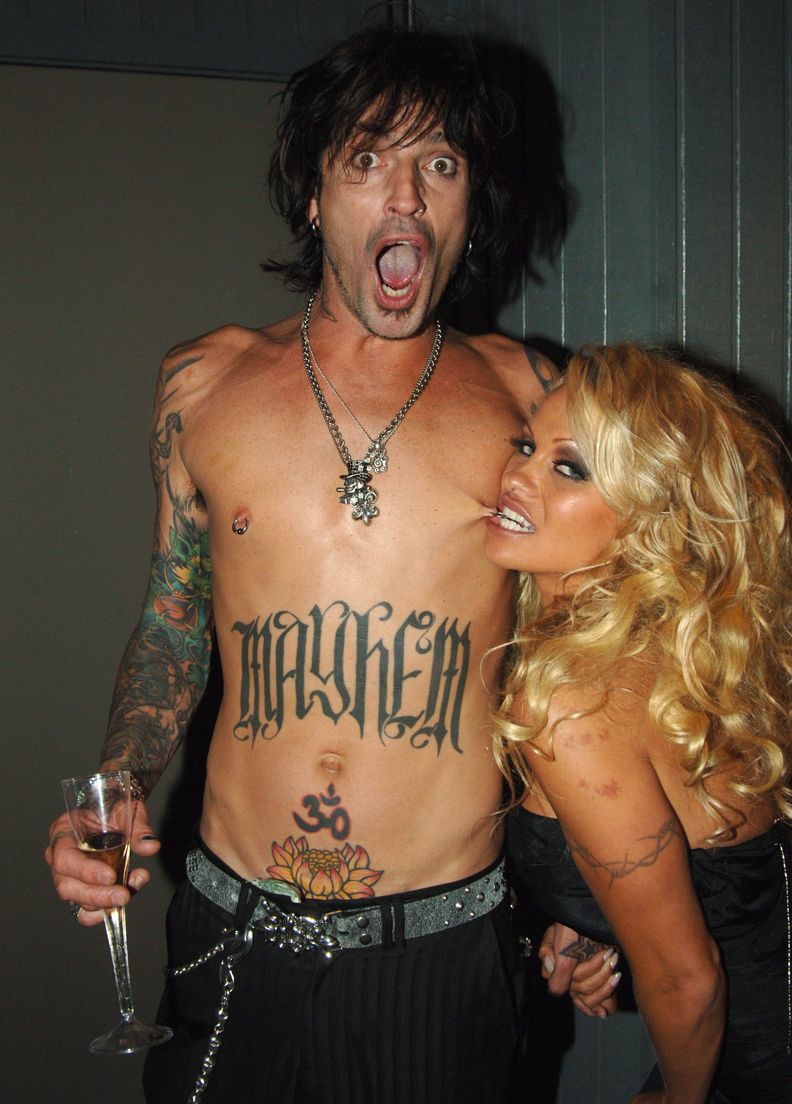 Pamela Anderson
On February 19, 1995, four days after meeting, Anderson and Lee married on a beach in Cancun. Anderson, notably, wore a white bikini as she said her vows.
During their marriage, a private sex tape of the two was stolen from their home and released to the world while Anderson was pregnant, which was explored in the series Pam & Tommy. Anderson has been vocal about how violated she felt over both the tape's leaking and the series rehashing it years later.
In June 1996, Anderson and Lee welcomed their first son, Brandon Thomas Lee, and in December 1997, their youngest son, Dylan Jagger Lee, was born.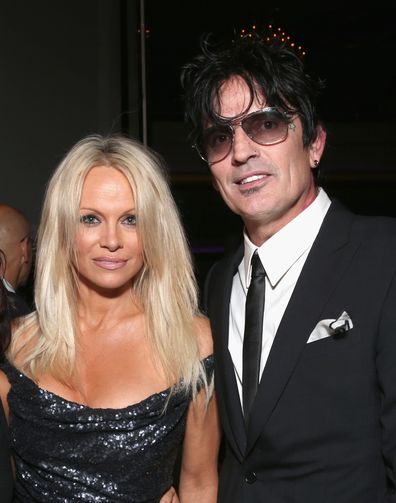 By 1998, the couple had divorced. That same year, Lee served six months in county jail after pleading no contest to kicking Anderson while she was holding Dylan.
During an altercation over Anderson refusing to call her parents and ask them not to come over to the family home, Lee assaulted Anderson, leaving her bruised, with a torn fingernail, and a "fear for the safety of her two sons." Anderson also opened up about this in her memoir, Love, Pamela, where she also revealed the couple violated their restraining order by meeting up secretly for assignations.
Nevertheless, the couple split seemingly for good in 2001 after briefly reuniting following Lee's release from jail, and after a lengthy custody battle, both Anderson and Lee were granted joint custody of their two sons.
In 2008, Lee and Anderson again briefly reunited and lived together with their children, but then ended their relationship – this time for good – shortly after.
Read more about their relationship here.
Support is available from the National Sexual Assault, Domestic Family Violence Counselling Service at 1800RESPECT (1800 737 732).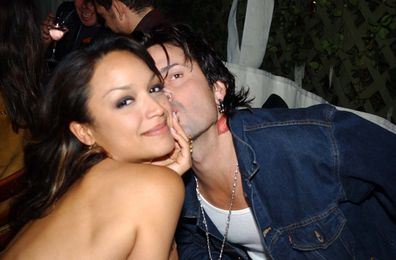 Mayte Garcia
Following Lee and Anderson's split in 2001, Lee and Mayte Garcia got engaged in 2002.
Garcia, who sang on Lee's album Never a Dull Moment and also toured with Lee, was also known as singer Prince's ex-wife.
By 2003, Garcia and Lee had split. Following this, Lee was romantically linked with Rod Stewart's daughter Kimberly Stewart, American Pie's Tara Reid, reality star Daisy de la Hoya, and supermodel Naomi Campbell.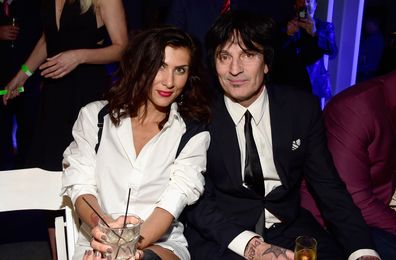 Sofia Toufa
Six years after Anderson and Lee briefly reunited in 2008, Lee started dating Greek-German singer Sofia Toufa in 2009.
In 2014, Lee proposed. The couple was engaged for three years, splitting in 2017, with no explanation given for their split.
For a daily dose of 9Honey, subscribe to our newsletter here.
Brittany Furlan
One year after his split from Toufa, Lee and Vine star Furlan were engaged.
On Valentine's Day in 2018, Lee made the announcement that Furlan had been upgraded from girlfriend to fiancée, and on Valentine's Day 2019, the couple married.
They live together in a $US4.15 million (approx. $6.1 million) home in Brentwood, Los Angeles.
Nine Entertainment Co (the publisher of this website) owns and operates the streaming service Stan.




2023-02-25 01:02:00 ,

Source link

#Tommy #Lee #dating #history #relationships #including #marriage #Pamela #Anderson #Explainer